Profile (Extend)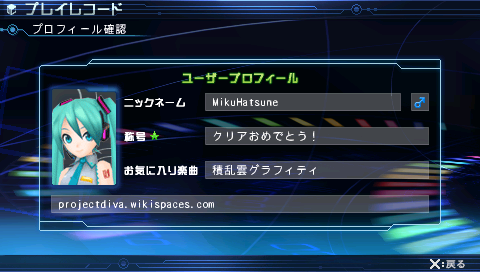 These Options are in the プロフィール設定 ("Profile Settings") selection on the プレイレコード ("Player Records") menu.
And the Player Records are accessed from the Main Menu.

Japanese

English

Description

プロフィール確認

View Profile

View your Profile

名前

Name

Enter your (Nick)Name

性別

Gender

Select your Gender

男性: Male
女性: Female
 ?: Unspecified

お気に入り楽曲

Favorite Music

Choose your Favorite Song from the Game in the first option, or enter a song name in the second option.

コメント

Comment

Enter a short biography or other comments.

Choose a title from the list of titles you have achieved.

サムネイル

Thumbnail

Choose a picture from the list of nine characters.